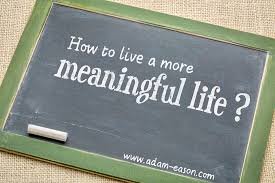 This is not found in success and fame – it's actually derived from contributing to something bigger than yourself.
How does this relate in our lives – well it's actually quite simple.
In business – if we can enrich the lives of our staff and customers – we have meaning
If we can help nurture our families and friends – we have meaning and
if we can give without the expectation of receiving this is meaningful.
We all desire fame and fortune and that's ok – but the true wealth comes from a healthy, good and fulfilled life and the fame is when your family see you as their superhero – more than this you don't need.
BL
If you want to receive the Daily Deliaf, Subscribe here: http://bit.ly/DailyDeliaf. If you know others that may benefit from the Daily Deliaf please share.