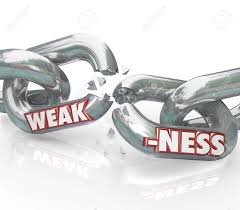 We all have weaknesses.
Not only is it hard to admit this – it's even harder to work on them.
It is far easier to just accept that you have a weakness and focus on your strengths.
I have often said – That's not really my area of expertise…. If its crucial to what you do for a living or in your job then here's a news flash; You can't have weaknesses.
You can have certain things that you are good at and others that you are great at – but you can't have any that you are weak at.
So instead of working on them – isolate them and focus on them like crazy until you have them to at least an above average level.
This will ensure that any weakness you have in your business is still above the average in the industry and this means you are way ahead of your competitors!
BL
If you want to receive the Daily Deliaf, Subscribe here: http://bit.ly/DailyDeliaf. If you know others that may benefit from the Daily Deliaf please share.